physiotherapist
Philip Yap | 槟城物理治疗
槟城物理治疗通过使用【实证医学】来快速有效重振您的生活。Philip Yap 专精于干针(西式针灸)、中风复建、术后复建和老年人复建。
west. acupuncture
Certified Dry Needling Advanced Practitioner (Aus)
BSc Physiotherapy
国立台湾大学 (NTU)
关于 Philip Yap 槟城物理治疗
Philip Yap 是一名槟城物理治疗师,专精于干针(西式针灸)、中风复建、肌肉疼痛、脊柱和关节疼痛、运动损伤、术后复建和老年人复建。

– BSc Physiotherapy (National Taiwan University)
– Certified Dry Needling Advanced Practitioner (Aus)
– 马来西亚物理治疗师协会会员
Common Conditions We Treat
Below are some of the common conditions we treat among many others. Contact us today for a free consultation of physiotherapy Penang!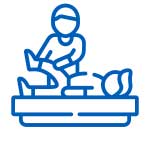 中风物理治疗
Rehabilitative therapy aims to regain independence, typically begins within 48 hours after the stroke.
干针(西式针灸)
Dry needling (Western Acupuncture) uses small filament type needles to release tight muscles and relax nerves.
老年人复建
Geriatric physiotherapy focuses on physical training to get seniors in shape by strengthening them.
Book an Appointment Now
Take Care of What Matters Most!
Get a Free Consultation Today