physiotherapist
Philip Yap | Physiotherapy Penang
Reclaim your life with evidence-based clinical physiotherapy Penang. Philip Yap specialises in Dry needling, Stroke, Post-surgery rehab, and Elderly rehabilitation.
west. acupuncture
Certified Dry Needling Advanced Practitioner (Aus)
BSc Physiotherapy
National Taiwan University
About Philip Yap Physiotherapy Penang
Philip Yap is a physical therapist who specialises in Dry Needling, Stroke rehabilitation, Muscle pain, Spine and Joint pain, Sports injuries, Post-operation rehab, and Elderly rehabilitation.
Frequently Asked Questions
Common Conditions We Treat
Below are some of the common conditions we treat among many others. Contact us today for a free consultation of physiotherapy Penang!
Frozen Shoulder
This progressive condition often starts with pain in the shoulder joint during movements.
Herniated Disc
A herniated disc refers to a problem with the disk between two vertebrae bones that stack up as your spine.
Neck Pain
Commonly caused by poor posture or injury from sudden movements. We help improve mobility, reduce pain.
Low Back Pain
Low back pain is one of the most common issues affecting many. Getting to the root cause is the key!
Muscle Stiffness & Pain
Myofascial pain syndrome is a disease of the muscle that produces local and referred pain — a Trigger Point.
Neurological Rehab
Conditions affecting brain, spinal cord or peripheral nerves. E.g, Stroke, Multiple Sclerosis and Parkinson's.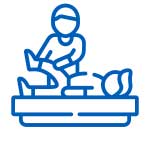 Stroke Rehabilitation
Rehabilitative therapy aims to regain independence, typically begins within 48 hours after the stroke.
Dry Needling Therapy
Dry needling (Western Acupuncture) uses small filament type needles to release tight muscles and relax nerves.
Elderly Rehabilitation
Geriatric physiotherapy focuses on physical training to get seniors in shape by strengthening them.
Book an Appointment Now
Take Care of What Matters Most!
Get a Free Consultation Today